Support ReviewEcon.com and bring your AP Macroeconomics Curriculum to the next level with these Google Docs worksheets covering the entire Macroeconomics Course Exam Description (CED).
To request a sample, fill out this form.
A forever license for a single teacher: You may used these digital worksheets with as many classes and for as many years as you like.
Free updates through July 2024: You will have access to any and all updates without paying more through the end of the school year. 
New updates with Ample Reserves
Editable Google Docs format: These worksheets are designed to be completed in google docs but could be completed by hand with some minor reformatting. 
33 Worksheets covering all the essential skills and knowledge covered in the Macroeconomics Course Exam Description.
11 Graph drawing practice slide decks to help students practice their graphing skills before tests and exams. 
Answer keys for all of the worksheets.
Discount on AP Microeconomics Google Docs Worksheets
100% money back guarantee: If you are not entirely satisfied, simply ask for your money back within 90 days and I will refund your purchase price.
If you would like to use a Purchase Order for payment, please contact me
Below is a list of included worksheets
Unit 1: Basic Economics Concepts
Topic 1.1 Scarcity (Also in Micro)
Topic 1.2 Opportunity Cost and the PPC (Also in Micro)
Topic 1.3 Comparative Adv. and Trade (Also in Micro)
Topic 1.4 Demand (Also in Micro with substitution and income effect in Micro)
Topic 1.5 Supply (Also in Micro)
Topic 1.6 Market Equilibrium (Also in Micro with double shifts in Micro)
Unit 2: Economic Indicators and the Business Cycle
Topic 2.1A Circular Flow
Topic 2.1B & 2.2 GDP
Topic 2.3 Unemployment
Topic 2.4 & 2.5 Price Indices & Inflation
Topic 2.6 Real vs Nominal GDP
Topic 2.7 Business Cycles
Unit 3: National Income and Price Determination
Topic 3.1 Aggregate Demand
Topic 3.2 Multipliers
Topic 3.3 & 3.4 SRAS and LRAS
Topic 3.5 & 3.6 Aggregate Equilibrium
Topic 3.7 Long-Run Self-Adjustment
Topic 3.8 Fiscal Policy & Stabilizers
Unit 4: Financial Sector
Topic 4.1 & 4.3 Financial Assets & Money (Updated for CED Changes!!)

Topic 4.2 Nominal v. Real Interest Rates
Topic 4.4 Banking and Money Expansion (Updated for CED Changes!!)
Topic 4.5 Money Market (Updated for CED Changes!!)
Topic 4.6 Monetary Policy (Updated for CED Changes!!)
Topic 4.7 Loanable Funds
Unit 5: Long Run Consequences of Stabilization Policies
Topic 5.1 Fiscal & Monetary Actions (Updated for CED Changes!!)
Topic 5.2 Phillips Curve
Topic 5.3 Money Growth and Inflation
Topic 5.4 & 5.5 Deficits & Crowding Out
Topic 5.6 & 5.7 Economic Growth
Unit 6: Open Economy – International Trade and Finance
Topic 6.1 Balance of Payments
Topic 6.2 & 6.3 Foreign Exchange Market
Topic 6.4 Changes in ForEx Markets
Topic 6.5 & 6.6 ForEx, Xn & Capital Flows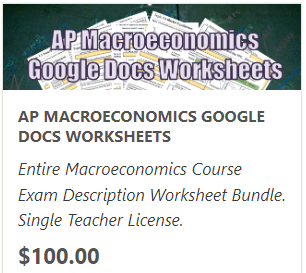 Bundle and Save!!
You can get a complete set of Microeconomics worksheets too! See the Micro Worksheets page for more details or click below to purchase the discounted bundle!